Welcome to Dyarco International Group
Dyarco International Group (Dyarco) was initially founded in 1992 as a partnership between two Qatari Groups: Al Faisal Holding (founded by H.E Sheikh Faisal Bin Qassim Al Thani), and Ebrahim Al Neama & Sons Holding Group (owned by Mr Ebrahim Al Neama). The partner companies each maintain a strong presence at national and international levels, with diversified business interests.
In 2016, the Dyarco shares held at the time by Al Faisal Holding were then acquired by Al Sawari Holding Group,  led by Sheikh Turki bin Faisal al Thani, son of Sheikh Faisal Bin Qassim Al Thani. Currently, effective January 2021, the ownership of the business is once again restructured, as Ebrahim Al Neama & Sons Holding Group (ENHG) have bought over the shares of Al Sawari Holding Group and subsequently, Dyarco is now fully owned by ENHG.
ENHG has been an active participant in Qatar's vibrant and growing economy committed to diversifying businesses and contributing to the economic and commercial development of Qatar.
Dyarco's business strategy will maintain its course; to seek opportunities that will grow its broad, world-class portfolio and actively looks to establish international partnerships to build on our extensive experience and expertise. Dyarco International Group currently operates across a wide range of industries including industrial construction, technology, business, and investment, and is constantly seeking new opportunities to complement its existing portfolio.  With a focus on innovation and excellence, Dyarco continually seeks to deliver the best-in-class products and services.  Through internal growth, mergers & acquisitions and international partnerships, the group has established itself as a leading player in the fast-paced Qatar market.
About Dyarco
Dyarco can represent your company by providing strong professional support to set up and develop your business in Qatar. As a strategic partner, Dyarco can contribute to the capital and provide additional resources and/or facilities to enable the successful execution, monitoring and reporting of our business ventures.
In its inception in 1992, Dyarco started with representing foreign companies operating in the oil & gas sector. Over the years, the group took advantage of the various business opportunities arising from the prosperity and growth of Qatar, and successfully developed new and relevant partnerships in other industrial sectors.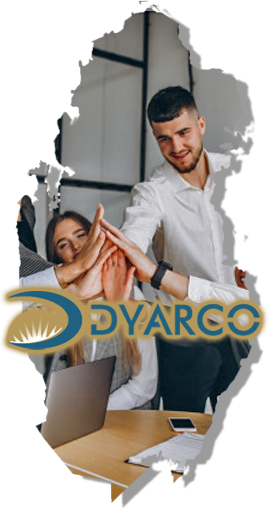 Today, Dyarco has grown to partner with more than 20+ companies including some of the leading names on an international level, such as Johnson Controls, KONE Elevators, Jotun Paints, Danube Building Materials and many more reputed names and brands.
The diversity of our group remains a key and competitive advantage that enables us to cover the market's needs, providing our clients with a wide range of products and services of quality.
Our Vision
Maintaining trust and developing sustainable relationships with our partners is a priority. Dyarco's ambition is to continue to be recognized as a leader in the Qatari private business segment and remain a partner of choice for major multinationals that wish to establish their presence in Qatar.