KONE Elevators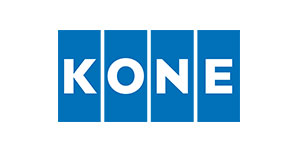 Products & Services
Elevators and Escalators: supply, manufacturing, installation and maintenance
Modernization of elevators, escalators, autowalks, mono space/mini space elevators
Company Profile
KONE's objective is to offer the best people flow experience by developing and delivering solutions that enable people to move smoothly, safely, comfortably and without waiting in buildings in an increasingly urbanizing environment.
KONE provides its customers with industry-leading elevators, escalators and innovative solutions for modernization and maintenance, and is one of the global leaders in its industry. KONE is present in around 50 countries worldwide headquartered in Helsinki in Finland.
KONE in the Middle East
Committed to serving its customers in the Middle East for over 30 years, KONE established its regional headquarters in Dubai in 1993, and has become the leading supplier of elevators and escalators in the Middle East employing over 1900 employees across the United Arab Emirates, Qatar, Saudi Arabia, Oman, Bahrain, Egypt and serving a further 10 countries in the region through its network of joint ventures and authorized distributors.
Company Project Profile
Doha metro (Red line south and Gold line) – Qatar
Light Rail Transit – Qatar
Aspire Tower – Qatar
ASIAN Game Village – Qatar
National bank of Abu Dhabi – UAE
Al Fattan Marine Towers – Dubai, UAE
Marina Bay Sands – Singapore
Shangri-la Hotel – Dubai, UAE
Kaufhaus Sevens – Germany
Bangkok Airport – Thailand
Kingdom Tower – KSA
Development of King Aziz Endowment – KSA
King Abdul Aziz Int'l Airport – KSA
Beijing National Stadium – China
30 St Mary Axe – UK
Trump International Tower & Hotel – USA