Dyarco Technology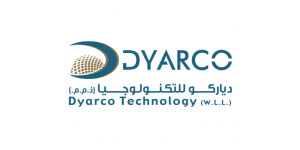 Products & Services
Power wave Technologies Inc. to provide end-to-end wireless coverage and capacity solutions for wireless communications networks.
Polycom Video Conferencing Solutions.
Hand held modular test solutions for optical, transport & datacom networks IMS/VOIP Telecom networks.
End-to-end structured cabling needs of CAT & fibre.
Telecommunication Systems
Provides Alcatel voice & data PRDTS
Provides antennas & related equipment to telecom service like Qtel & Vodafone from power waves – USA
Provide ERP Solution from Ramco Systems – India
PABX, Phone Systems (Alcatel- Lucent)
Firewall / Virtual Private Network
Network Management tools & Network Security Devices
Switches, Routers, LAN, WLAN
Security, Data Center Solution
IP Soft Phones
Company Profile
Dyarco Technology specilises in telecommunication. It has a team of skilled and highly motivated Telecom & IT professionals with expertise in their own domains. This combined with dedication, coordination and people skills makes our spirits high and helped us to build an efficient team which has always met deadlines and provided deliverables and post delivery support to the customer's utmost satisfaction proven, effective and professional service.
Built on firm foundations, good customer relations, constant attention to detail and the professionalism of its well-trained and qualified workforce, Intercol continues to ensure that it keeps abreast of the needs and demands of economies and businesses through the introduction of new products, processes and advanced technology.
Dyarco Techology is an Accredited Premium Business Partner of Alcatel-Lucent, France, which is the highest level of certification which a partner can be awarded with Alcatel-Lucent for Enterprise Converged Solutions.