Al Failaq International Trading Co.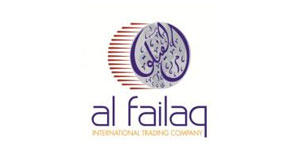 Products & Services
Sound System – TOA (Japan)
Security System – TOA (Japan), Elbex
Communication Systems – Transol (Australia), Fermax (Italy)
Access Control System – Centurion (S.A0, Securakey (USA), Fermax (Italy), PCSC (USA)
Pro Sound Speakers, Home Theater
Voice Evacuation, Digital Matrix
Infra-Red Camera,
Intruder Alarms
Explosives /Narcotics Detection
Alarm Management System
Audio Video Door Entry
Company Profile
Al Failaq International Trading Company WLL is 100% Qatari company, owned by Dyarco International Group.
From its inception, Al Failaq concentrated on three major fields: Sound, Security and Communications. AL Failaq provides advanced Voice and Data Communications, and complete solutions that meet the demands of Defense, Aviation and Navy sectors, as well as emergency services such as Fire Stations, Electrical Distribution, and Road Traffic Control Rooms.
Al Failaq's dedication to quality and a commitment to trouble-free operation has earned them a growing list of clients which includes Ministries, Financial Institutions, Hospitals, 5-star Hotels and Resorts, Shopping Malls, Museums, Stadiums, Multistory Towers, Cinemas and Auditoriums, Embassies, Palaces, Defense services, Airports etc.
Our state-of-the-art and user-friendly audio systems enable close control and deliver high-fidelity audio quality appreciated by discerning audiences – in concert halls, large convention rooms, opera houses, movie theatres, stadiums, airports, hospitals, mosques, amusements arcade and theme parks.
Company Project Profile
Doha Sheraton (New Gymnasium & Aerobics Facility) – Qatar
Grand Hyatt (Speaker System) – Qatar
Qatar Scientific Club – Paging & Music System
Renault Nissan Main Car Showroom at Salwa Road (Paging & Music System) – Qatar
Ministry of Education HQ: Conference Room (Wireless conference & Interpretation System) – Qatar
La Cigale Hotel (Background Music System) – Qatar
ASIAN Games (Rayyan & Gharrafa Indoor Stadium Sound System) – Qatar